Explorer James Cook reached the Lau Island group in 1774.
Exactly 247 years later, Fiji-based blogger Ben Wheeler took a Captain Cook Cruises ship to said island group. This is the record of his voyage.
Preparation
Call me Benjamin.
Some weeks ago – never mind how long precisely – having little or no money in my purse, and nothing in particular to interest me on shore, I thought I would sail about a little and see the watery part of the world.
Fortunately, with Captain Cook Cruises happily aboard the good ship Love Our Locals, my partner Milla and I were able to get enough money together to join the MV Reef Endeavour as it surveyed the legendarily beautiful Lau Island group.
All Aboard
The day of our departure is upon us. Check in is from 10 o'clock to 12 noon and we have waited until 9am to pack. This, of course, is my idea.
Milla is fastidious, approaching a suitcase the same way an expert Tetris player does an empty grid – a wonderful counterpoint to my more laidback approach of stuffing t-shirts, pants and socks into a corduroy rucksack.
Reasoning that, Fiji-style, the check in is more of a rough guideline that a hard and fast miss-it-and-you-lose-out type deal we aim for an 11 o'clock check in that will cut down on waiting time whilst not jarring too hard with our Anglo-Finnish need to be punctual.
One Moments' breakfast later, however, and we are boarding the Reef Endeavour for a pleasingly prompt start to the proceedings.
Accommodation
Our cabin, thanks to a promise from me to send these very pictures and words to Captain Cook's top brass (thanks Jackie!) is located on the Upper A Deck, with our friends distributed among the lower decks.
This prompts much discussion of how I am essentially like Billy Zane from Titanic, which is nonsense because I am the one being whisked away on this voyage by a moneyed partner.
If anything, I am Kate Winslet.
I suggest I come below decks during the trip and be drawn like one of their French girls. The offer falls on deaf ears.
It strikes me that these people – my friends – just an hour ago refused to mention the "W" word for fear of damning us to a week without sun, are now heartily chuckling as they allude to one of the most catastrophic maritime disasters in history.
People are strange, eh?
As it turns out, there is not a huge difference between the rooms on each deck, save the view as one enters and exits.
The top decks are not the exclusive preserve of society's top-hatted-and-tailed elite and, even more disappointingly, there are no parties with fiddle players, lashings of booze, and people dancing on tables when I venture down to D deck to do my laundry.
The rooms are more spacious than we expected, and will prove more than adequate for a week of dry and wet gear wardrobe changes, and excellent sleeps after days that are fun packed to the point of exhaustion.
We unpack and make our way to the top deck, grabbing a bottle of red as we ascend, and toast what will quickly become our most excellent Fiji adventure yet.
Food
Later that night as the ship powers east through somewhat choppy waters, Milla and I find ourselves seated at the Captain's Table.
I catch myself smiling like a loon as the wine kicks in, marvelling at our luck and full of anticipation for the week ahead. Also, the motion on the ocean makes anyone trying to navigate the dining room look like Dean Martin trying to distinguish between the bar and the audience.
The Captain joins us.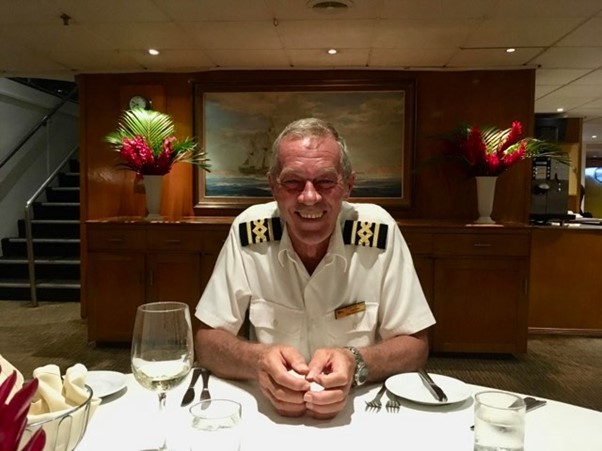 Capt. Ken Ballantine is of course perfectly calibrated to this momentum, and is exactly the sort of man you want steering your ship (even while, technically, delegating that task to one of several others on board trained to do so).
Captain Ken – as I instantly feel comfortable calling him – is calm, collected, and as cool as a cucumber in the ship's deep freezers, with a sense of humour that is, like the white wine he selects for the table, reassuringly dry.
To my right are seated a professional travel blogger and an optometrist. I resist the temptation to mention my amateur blog efforts to the former, and my thorough dislike of pessimists to the latter.
Champagne is served.
I glance around the dining room where my friends are sitting and suddenly feel a bit smug.
"Ye gods!" I chastise myself. "Maybe I am Billy Zane."
I shake these thoughts from my mind and chat with the couple to my left who run a successful Nadi-based business.
I talk about who I am and where I'm from, what I do here in Fiji as compared to what I used to do at home, how I love my new home but miss my family and friends.
They tell me about their children – who are in the United Kingdom training new army recruits and designing drone technology – and their grandchildren, who they also miss terribly.
My new friends are quite taken with the fact that almost all of this discussion is in iTaukei, a language with whose Bauan dialect I am slowly becoming conversationally comfortable.
At this moment it strikes me that I am here neither because of being wealthy or successful, nor because I am very beautiful and desirous. I am here through the power of my persuasion and the gift of my gab, with a healthy sprinkling of luck.
I am, in short, Leonardo DiCaprio.
The food on this first night is incredible. Having only been treated to hearty and enjoyable buffet meals on previous cruises, the move to a la carte adds an air of sophistication to the proceedings.
The rest of our voyage combines sumptuous and bountiful breakfast and lunch buffets, with more suave and varied a la carte options for dinner.
This is perfect, as three buffets a day can be a little overwhelming for a foodie who, like me, is capable of remarkably little self-control.
Island Hops
Yes, the main reason for such an expedition as this is to be on, near or indeed in the Big Blue. The Triple C (Captain Cook Cruises) however offer charming island excursions every day of our trip.
By the second day the few clouds – possibly dragged with us from Suva – that had spoiled the clear blue Lau skies have politely excused themselves.
We gear up for our first island visit after a casual meander through a lagoon punctuated by exquisite mushroom-shaped islands, each looking like the perfect spot to sling a hammock and relax for the day.
Our final destination – Fulaga – is even more beautiful: a large crescent of Elysian beach, surrounded by satellite islets, each with their own tiny shoreline.
It is like being in a fractal explosion of tropical perfection; an alluring constellation of cays and coves floating on an aquamarine blanket, begging for further exploration.
While some snorkel, and other paddleboard, Milla and I jump in a kayak and begin to traverse this enticing archipelagic array.
I wish I could say our journey was graceful and sedate, reflecting our surroundings as we easily and breezily cut through the still waters of the lagoon, hopping from one heavenly haven to the next.
In reality we still have not quite mastered the kayak as a mode of transport, and spend much time trying to coordinate strokes, and drifting past our destinations in a manner that can only be described as "sideways".
This turns out to be all the fun, however, and we chuckle and giggle our way from paradisiacal pillar to post, before we finally return to the main beach to escape the sun, which I have fought valiantly, in the absence of my cap, by wrapping a t-shirt around my head.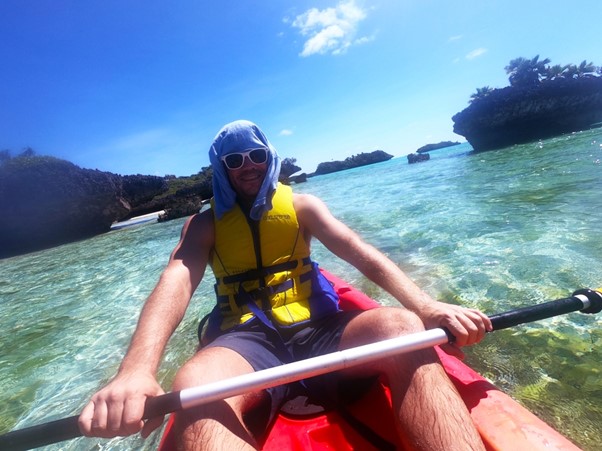 When said t-shirt is once again worn as intended, a couple approach me and ask if I'm from Connecticut.
I have been mistaken for a native of many countries since moving to Fiji, but this was extremely specific.
It turns out that the t-shirt I am wearing bears the logo of their local, much-loved eatery Lenny & Joe's Fish Tale.
They are amused and bemused to learn that I purchased it from a second hand store in Koenji, Tokyo, because I thought it looked cool, not even sure it was a real place.
Tickled pink, and not just because of the slowly encroaching sunburn, we pose for photos together, which they say they will send to friends.
My time in the sun both figuratively and literally over, we head back to the ship.
Landfall
On Monday morning we are primed and ready for the first bit of real exertion: a hike across the next stop on our Lau tour – Vuaqava Island.
We board our trusty run-around and head for the elevated coral limestone formation, which has the appearance of a raised atoll.
We are informed that the trek to Vuaqva's centre would be marked not only by intriguing flora and fauna, but also a tidal saltwater lake inside the island.
Being from Finland, Milla is used to the idea of epic forests and lakes. Being from the UK I am used my national forests and lakes being mocked for resembling shrubbery and ponds compared to these Nordic offerings.

I wonder what she will have to say about Vuaqava.
The walk is testing in places as we scale rock and root infested pathways through the plant life. I am fascinated by the wildlife: hornet's nests, spider's webs, and a crab that looks pretty lost half way up a palm tree.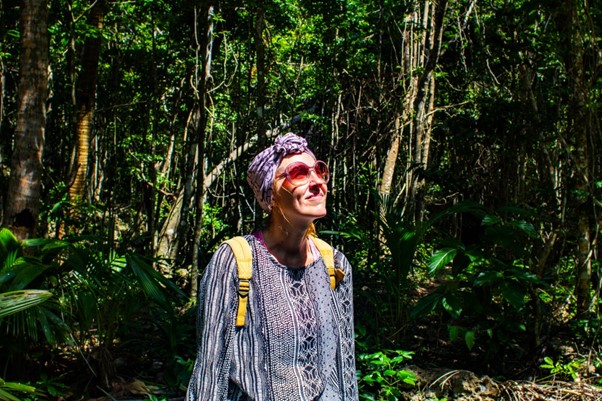 Onwards we march at quite the pace, sweating out last night's food and wine consumption, until we reach the lake, and an impressive sight it is too.
Even Milla is quite taken.
While the more technologically minded of our group send up drones to capture aerial footage, and a few adventurous souls dive into the lake, Milla and I duck into the undergrowth to scan the lake's edge for signs of life.
There is movement, for sure, but we can't quite make out what it is. As I quietly approach Milla comes running, panicked, past me towards the clearing, her entrance into this area careful and deliberate, her exit anything but.
"What's wrong?" I enquire, worried.
"HORNETS!" she exclaims, "Big ones! Listen!"
I cock an ear to the incessant humming above us and detect an unmistakably mechanical timbre.
It's a drone.
Back in a position of clear and present safety, I sit and eat coconuts, watching as Milla surveys the lake and pretends nothing hilarious and embarrassing just happened.
Every island we visit is varied and has its own character.
My personal favourite was Kabara where everyone was more than happy to have their photo taken. These are my people!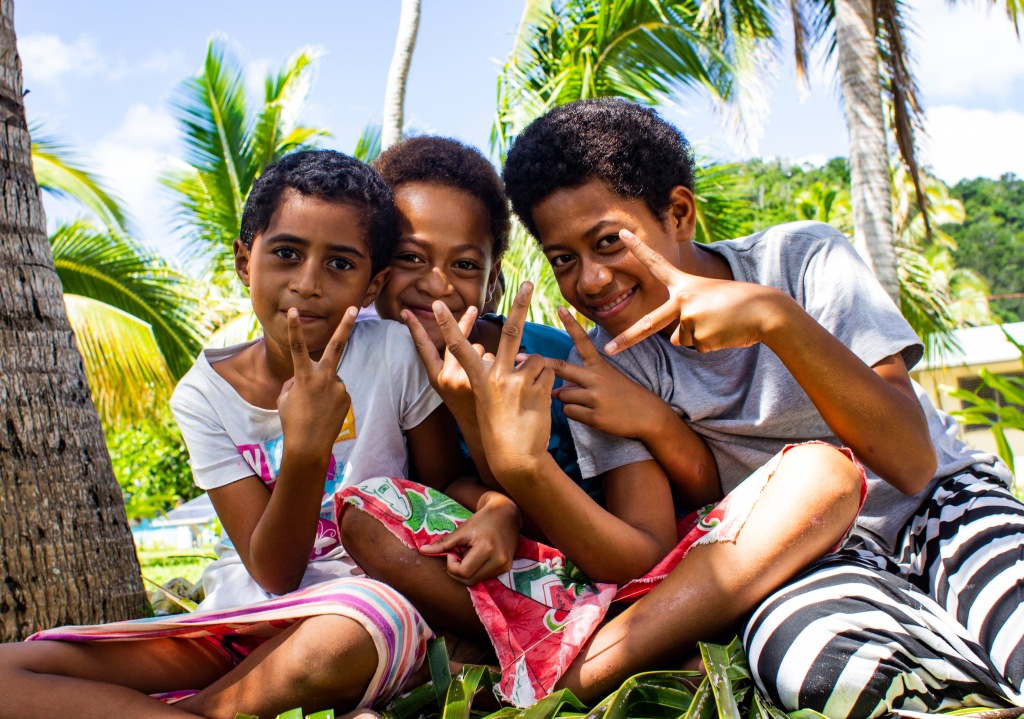 In The Water (finally)
Of course the true delight of this trip is to be found, day after day, in the crystal clear blue ocean. The underwater kingdoms we explored on this trip were some of the most beautiful I have ever seen.
Every day the coral and fish we see become more and more vibrant and exciting.
I'll let the photos, captured with my GoPro, do the talking here.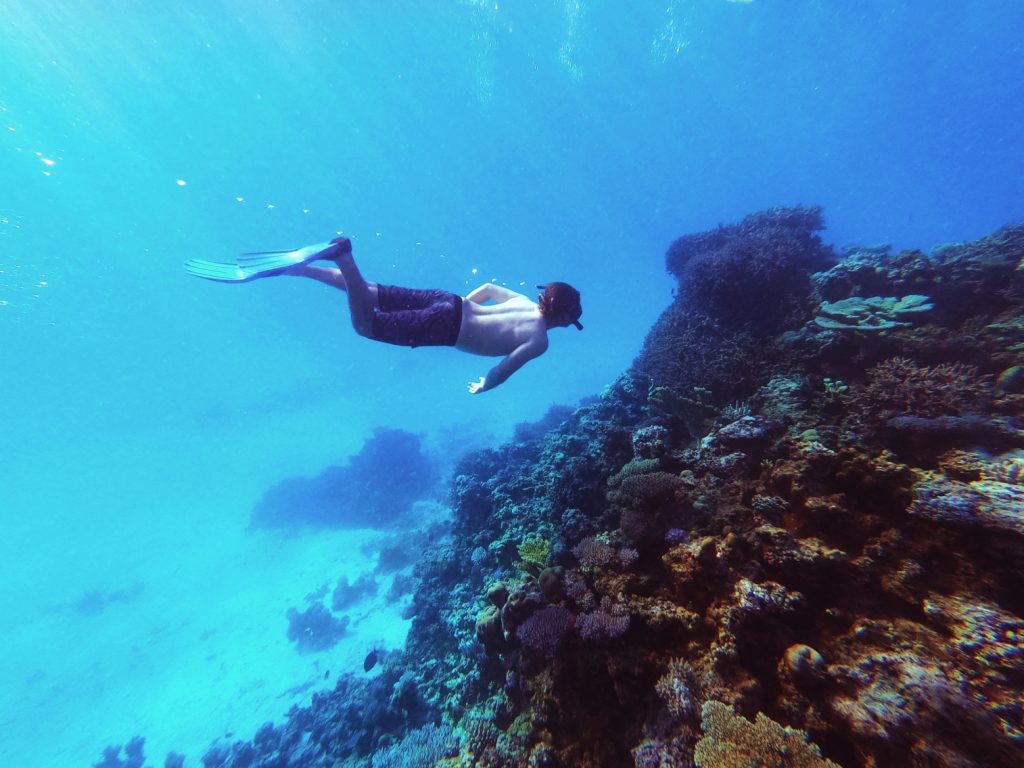 What's more the trained dive instructors on board say they can give me a course on the boat's pool and have me out in the ocean scuba diving for the first time in my life by the end of the week.
My first scuba dive is a smash – I am a natural, it seems.
It feels like I am gliding through the water without even trying. It's then that I realise my dive teacher is actually guiding me and has not released his grip.
He is taking no chances, and I applaud his efforts to keep me safe through the medium of bubbles.
The next day, however, he sets me free.
The feeling is indescribable. But I'll give it a go, while I'm here…
It's like flying but not.
Like swimming but not.
There is a sense of freedom like you get when you're travelling at top speed down a motorway with the roof down, only it is in slow motion so that you can detect and inspect every minuscule detail of this incredible new world you have found.
The snorkling and diving around Kabara seem to us like the zenith of our time here, and although there is another full day at Kadavu on the itinerary, we make an executive decision to mark all of our achievements thus far.
The night, of course, is a blur, but I remember discussions of French cinema in broken French, and chatting more and more with the friends I have made on this cruise from countries all over the world.
My Fijian is on fire, I think to myself – clearly now drunk – as I talk and talk with my new iTaukei friends, each group happier than the last that this kaivalagi has made the effort to learn their language.
Some trace their roots back to Lau. These new deals at Captain Cook Cruises that have allowed Milla and I to experience this wonderment have also meant that they too have been able to visit the island group – some for the first time – a silver lining to the dark COVID clouds that have gathered in the last couple of years.
So if you want to explore this extraordinary, beautiful part of Fiji, I heartily recommend Captain Cook Cruises.
There is so much rich and vibrant history and culture to explore, the staff are wonderful, friendly and fun, and the locations, oh my, they make for some pretty impressive photos, like these…
This article first appeared on Ben's blog and is reprinted here with permission.
Section: Adventure
Tags: Lau, cruise, water, islands, Captain Cook Cruises